Get the best deal with our Ibiza transfers– save up to 30% and enjoy more comfort and value than a regular taxi transfer
The best transfer services in Ibiza– indulge yourself!
Our Ibiza transfers are priced taking into consideration affordability. We do this without compromising the quality in any way. When you book a transfer through our website you have to pay in advance. The price will stay the same regardles of which you choose no matter which payment method you choose. Let's say you want to find out the price of an cheap Ibiza airport shuttle. All you have to do is input the information in the booking form above. If you want to book it, just complete all the steps and shortly you will receive a booking confirmation email.
Whether you are looking for an economic option or a luxurious one, we have a wide range of options for each and every customer. Even if we have better prices than our competitors the quality of our transport options is still the best. We are proud to say that our Ibiza transfers offer the best value for money. Our prices are competitive and our services top-notch. So, why not book your travel with us today and make sure you get the most out of your visit to Ibiza?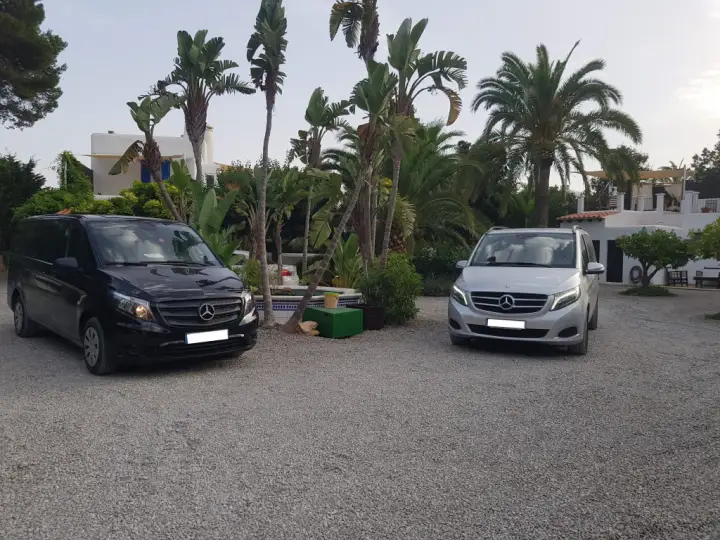 Choosing to hire a transfer in Ibiza will give you lots of advantages:
most competitive price wide range
flexibility in the choice of car category
our prices are upfront so know how much it will cost you beforehand
secure online payment;
book now and pay on the day of the transfer
book transfers ahead of time
fleet of modern and clean vehicles that fully ensure the safety and comfort of our guests
24/7 full customer support
English speaking drivers
free stand by time (variable depending on location)
child seats/baby seats available upon request
Our transfers are a local and better alternative to Uber in Ibiza
Ibiza transfers is a very helpful solution for people that are always on the move. Due to various reasons, many having to do with local bureaucracy, there is no Uber in Ibiza. But much like Uber, Ibiride has gained a reputation for offering the best transfers and transportation services in Ibiza. The big difference between us and Uber is that we do not use a Taxi app / Taxi application. We are only available in Ibiza. We would not have our customers install an app on their phones for the short time they are vacationing on the Balearic islands. We do more than a simple Ibiza taxi transfer we provide great service and creat lasting partnerships. Even if we do not have an app that does not mean we do not welcome reviews about our drivers or our services. If you want to write a review about our drivers, cars or services, use ourGoogle My Business page: https://g.page/ibiride/review?gm
Do not think of our transfer service as a regular Ibiza taxi transfer. What we are offering is completely different. When you book an Ibiza Transfer you get one of our personal professional drivers. The Driver will go above and beyond to safely and comfortably transport you to your desired destination. Our core value is excellent service. Only by providing excellent service we keep our customers happy and coming back. We strongly believe that by taking care of our customers and making sure they are safely transported we have grown to be the best.
Why booking a transfer in Ibiza?
Booking a transfer is an excellent way to make sure you arrive at your destination quickly and comfortably. There are numerous benefits to booking a transfer over alternative transport options. The most obvious benefit is that your driver will be waiting for you when you touch down, taking away the hassle of finding another means of transportation or struggling with difficult public transport locator systems.
Plus, you can enjoy a high-quality transfer experience at surprisingly low prices! No queues, no lengthy waits – we'll get you to where you need to be in no time. What's more, if it's your first time visiting an unfamiliar city, we understand how important having peace of mind can be – that's why we offer direct transfers right to your hotel door so that you don't have to worry. So give yourself one less thing to think about and book your Ibiza transfer today!
ibiRide is the answer to all your event-related transportation needs
Are you organizing a private party on the island? Are you looking for a way to get all your friends to the party in complete safety and comfort? Are you having your wedding in Ibiza? Are you searching for best ibiza airport transfers for all your guests? Are you organizing a team-building or business getaway? You surely need a reliable company that can quickly organize cheap Ibiza Transfers and get everyone together punctually?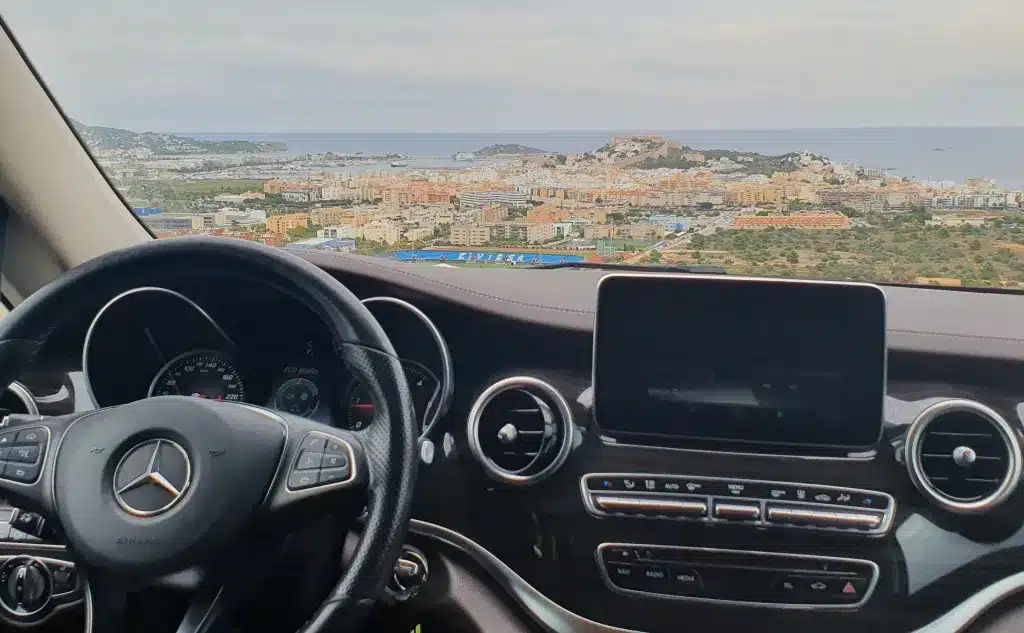 How do I get from the club to my hotel?
When travelling to Ibiza, it is important to have a reliable and comfortable transfer service. Ibiride offers the best quality transfers with modern cars, English speaking drivers and free stand by time. We cover any door to door private transportation needs. From the club to your accommodation , from the airport to your hotel, from one beach to another or to any other location on the island. Our drivers will get you there safely and comfortably. We provide flexible payment options and secure online payments that allow you to book your transfer any time before your trip.
We take pride in our services and guarantee that you will be satisfied with our Ibiza transfers.