Professional Chauffeur Services in Ibiza starting from only 35.42€/h!
Enjoy a stress-free Ibiza experience with the use of Private Chauffeur Service
Booking an Ibiza Chauffeur is a must, often due to summertime events, certain areas of Ibiza become hot-spots for vacation goers. In such places it will be almost impossible to get a taxi. This sort of thing happens very often and can lead to delays, rescheduling, and canceling events. Be it that you have to attend a party at a club, or join friends and family for dinner at that special restaurant. You can certainly be more at ease with being on time by hiring an service with private driver in Ibiza.
A private driver service allows you to be both spontaneous and punctual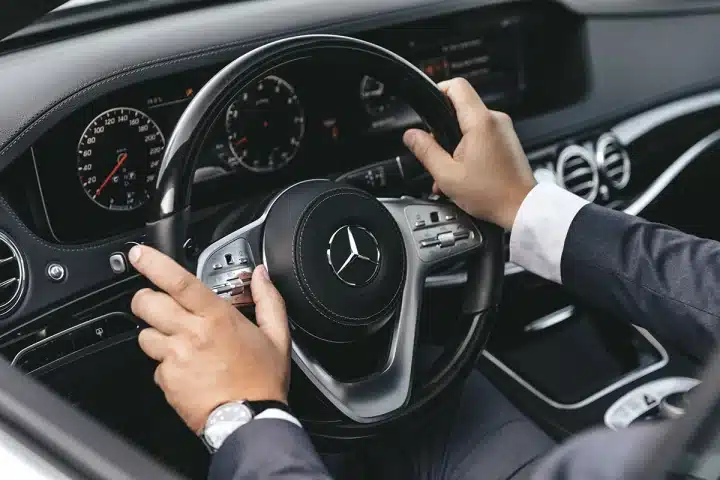 Can you hire someone to drive you around?
It is easy to feel overwhelmed by the diversity of choices at your disposal in Ibiza. Even more so if you have in mind that some of the best experiences aren't within walking distance. If you hire a chauffeur for a day, we can support you by acting as a concierge or Personal Assistant and facilitate a perfectly planned holiday. This includes a good balance of activities, to maximize your enjoyment of the island and on top of that be chauffeured everywhere in style.
Whether you are looking for exciting nightlife experiences, an unforgettable beach day or a sightseeing tour of Ibiza's breathtaking landscapes – we can provide you with the perfect limousine service.
What will be the designated car and private driver on the wildest night of clubbing in Ibiza? Simple … book a professional chauffeur service from Ibiride, and no one has to miss out
Imagine if you will, not having to stress about researching which beach, attraction, or site to visit. Then try and figure out a means of getting there and back. You would not have to worry about getting tickets for that one show you were always hoping to see. Or having to struggle to find a ride back at the end of the night. Your private driver can do all these and much more. A luxury chauffeur service cost can be less expensive than you think. We have competitive prices.
Parking can be a serious problem around hot-spots in Ibiza. Plus if you sample some delicious local drinks and cocktails, finding your car could be interesting. By booking a daily Personal Chauffeur Service , you will not only have an experienced private driver that takes you wherever you need. You will also have access to the knowledge and know-how of our entire team. We are happy to help you plan the perfect itinerary for your vacation.
Our corporate chauffeur services in Ibiza always guarantees  :
experienced professional drivers
thriving towards full customer satisfaction
Spanish and English speaking
knowledgeable about the island and its attractions
discreet driving service
first class Mercedes vehicles
on demand, special luxury vehicles
Hire a city chauffeur services to enjoy the next level of comfort and relaxation
Ibiza is a destination that has many different things to offer. Be it that you are planning to relax and take in the sun at one of the many breathtaking crystal clear beaches. Or you are looking to immerse yourself in the top-notch club scene. Enjoying a vacation in Ibiza is easy if you have the right tools at your disposal. Why not hire a executive chauffeur service for a 24-hour service? Why not get the help of a knowledgeable friendly local to chauffeur you to your favorite places?
At first glance, you would think that there are many similarities between a taxi and our private chauffeur services. If you think that both take you from point A to point B, then you are probably right. The real difference is how they do it. Taxis are great if you can find one and if the one you find turns out to be nice. We always guarantee an elegant, spotless vehicle and a courteous professional driver. Our fleet is sure to meet all your expectations.
What are the top-rated Private Driver Services based in Ibiza?
Our chauffeured transportation services can be just the Chauffeur-drive Hourly, or a luxury vehicle with a private driver at your disposal for as long as you need. Can be a hourly rate or daily rate. You always enjoy the friendly services of our knowledgeable and resourceful personal drivers. They can help you have an informed, stress-free, comfortable and safe vacation in Ibiza.
We cater to a wide variety of guests with an even more diverse range of interests. Do not hesitate to get in contact with us, if you are ready to enjoy all that Ibiza has to offer . We are absolutely certain that we will have the perfect solution for your transportation services needs.