Professional Chauffeur Services in Ibiza starting from only 54.16€/h!
Enjoy a stress-free Ibiza experience with the use of cars with driver services
Hiring a Ibiza chauffeur service is recommended, particularly during popular summer events when certain parts of the island attract a lot of tourists. In certain locations, obtaining a taxi may prove to be exceedingly difficult. Events of this type happen regularly and can lead to disturbance, modifications to timetables, and the cancellation of events.With our private chauffeur service in Ibiza, you don't have to worry about anything. Our professional drivers are here to take you where you need to go, in a timely and secure manner. We offer personalized service for all types of events, ready to make sure that your night out goes as smoothly as possible, with no surprise costs or hassles.
Our experienced professionals will be more than happy to assist you with luggage handling and transportation needs while taking good care of your safety and security throughout the journey. We also guarantee reliability by offering 24/7 customer support services in case something unexpected happens along the way.For all your Ibiza travel needs and luxurious transport experiences, choose our affordable prices! Contact us today for more information about rates, availability and our competitive prices!
A private driver service allows you to be both spontaneous and punctual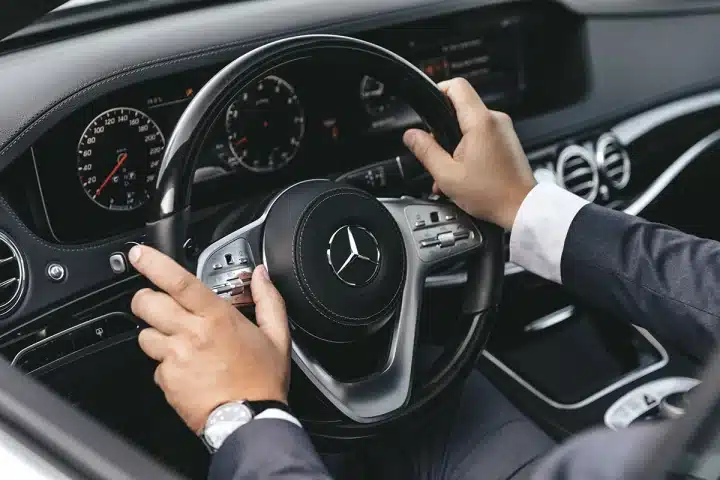 Can you hire someone to drive you around?
It is easy to feel overwhelmed by the diversity of choices at your disposal in Ibiza. Even more so if you have in mind that some of the best experiences aren't within walking distance. By hiring a chauffeur for a day, we can provide additional support as a concierge or Personal Assistant to ensure a well-organized vacation. This includes a good balance of activities, to maximize your enjoyment of the island and on top of that be chauffeured everywhere in style.
Whether you are looking for exciting nightlife experiences, an unforgettable beach day or a sightseeing tour of Ibiza's breathtaking landscapes – we can provide you with the perfect limousine service.
What will be the designated car and private driver on the wildest night in Ibiza? Simple … book a professional transfer service, and no one has to miss out
Consider the scenario of not having to worry about researching destinations and transportation for beach visits or attractions. Or to secure tickets for the desired show. Or having to struggle to find a ride back at the end of the night. A private driver can provide various services and assist with additional tasks as needed. The cost of a luxury chauffeur service may be more affordable than expected. Our prices are set to be competitive with other options on the market.
Finding a parking spot near popular areas in Ibiza can be challenging. Plus if you sample some delicious local drinks and cocktails, finding your car could be interesting. By booking a daily Personal Chauffeur Service , you will not only have an experienced private driver that takes you wherever you need. You will also have access to the knowledge and know-how of our entire team. We would be pleased to assist you in creating an ideal travel itinerary for your upcoming Ibiza trip.
Imagine stepping into your dream vacation where your every desire is taken care of! No more overwhelming Google searches or endless scrolling through TripAdvisor – we've curated the perfect getaway just for you. Kick back, relax, focus on enjoying yourself while we worry about driving.
Our private driver service always guarantees:
experienced professional drivers
thriving towards full customer satisfaction
Spanish and English speaking
knowledgeable about the island and its attractions
discreet driving service
first class Mercedes vehicles
on demand, special luxury vehicles
Hire a city chauffeur services to enjoy the next level of comfort and relaxation
Ibiza is a destination that has many different things to offer. Be it that you are planning to relax and take in the sun at one of the many breathtaking crystal clear beaches or you are looking to immerse yourself in the top-notch club scene. Enjoying a vacation in Ibiza is easy if you have the right tools at your disposal. Why not hire a executive chauffeur service for a 24-hour service? Why not get the help of a knowledgeable friendly local to chauffeur you to your favorite places?
At first glance, you would think that there are many similarities between a taxi and our private chauffeur services. If you think that both take you from point A to point B, then you are probably right. The real difference is how they do it. Taxis in Ibiza are great if you can find one and if the one you find turns out to be nice. Our quality services include a clean and stylish vehicle accompanied by a polite and professional driver. Our fleet is designed to meet the expectations of our customers.
What are the benefits of booking a private driver service in Ibiza?
Our chauffeured transportation services can be just the Chauffeur-drive Hourly, or a luxury vehicle with a private driver at your disposal for as long as you need. The rate can be either hourly or daily. Our personal drivers offer friendly and knowledgeable service to ensure a positive experience. They can help you have an informed, stress-free, comfortable and safe vacation in Ibiza. Choose from our wide selection of vehicles, ranging from economy class to Mercedes-Benz, from luxury vehicles to cars for weddings. You can also choose the most convenient pickup location: we can pick you up at the Ibiza airport, at your hotel or any other destination on the island.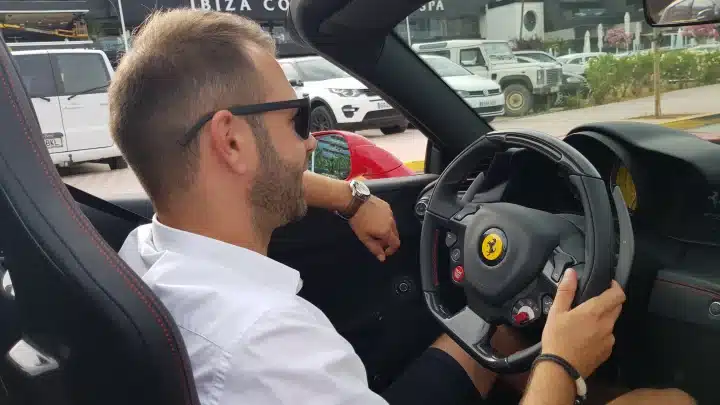 We cater to a wide variety of guests with an even more diverse range of interests. Do not hesitate to get in contact with us, if you are ready to enjoy all that Ibiza has to offer . We are absolutely certain that we will have the perfect solution for your private transportation services needs.
For more information or to book your private driver services in Ibiza, please do not hesitate to get in touch with us today.