Join us on driven Ibiza tour – Unleash your adventurous side on a spectacular journey 
Welcome to Ibiride Ibiza tours! Are you looking for an exciting, unique way to explore the island? Look no further – we have the perfect solution. Our driven tours in Ibiza are designed to give you an unforgettable experience of this magical island. From breathtaking views of the Mediterranean Sea to the vibrant streets of Ibiza Old Town, our experienced drivers will show you all that Ibiza has to offer. We guarantee that you'll have a blast as you explore some of the most beautiful places in Spain!
You are on a island filled with breathtaking beauty, premier nightlife and endless possibilities for adventure, or things to do in Ibiza. Whether it's a romantic getaway or a fun-filled holiday spent exploring the beaches and nature parks, it is possible to make the most of a driven tour in Ibiza. Booking a tour in Ibiza, gives travellers the opportunity to explore beyond just the beachside towns and tap into more remote locations filled with hidden gems.
We can assist you with the organization of a custom Ibiza island tour, or with the implementation of certain services.
Unlock the possibilities of exploring – tours in Ibiza ranging from a few hours to a entire day!
The White Island is renowned for its nightlife and beautiful beaches. But did you know that Ibiza also offers a variety of guided tours? There are many different types of tours available depending on your starting time and the number of hours you would like to spend exploring the island. We can customize the trip to fit your specific interests, so you will be able to explore the beautiful island in a way that suits you best. From exploring beaches or secret caves, old towns and ancient monuments, to visiting local markets, restaurants and bars – there are more Ibiza tours packages available.
If you're looking for a more comprehensive Ibiza tour experience, then you can opt for our full-day tour. This tour will take you to some of the most beautiful and iconic sites, such as Es Vedrà, San Antonio, Cala Bassa and Benirras. Our experienced drivers provide a personalized service that is sure to make your trip a memorable one. If you're looking for something shorter, we also offer half -day and sunset tours that offer a unique perspective of the island.
From a 2 hour of the Es Vedra sunset tour and its incredible turquoise waters, to an 8 hour excursion that takes you through gorgeous coves and hidden spots, or a Ibiza cave tour, we have something for everyone.
West side tours
The stunning cliffs and rugged coastline provide an impressive backdrop for photography. Our experienced drivers will take you on a tour of the West Coast of Ibiza so that you can experience all of these amazing sights. You will have the opportunity to stop at some of the most beautiful beaches on the island: Es Cubells, Cala D'Hort, Cala Tarida, Cala de Comte etc and explore their unique features. During the tour, our driver-guide will provide interesting facts and stories about Ibiza's history and culture, making your trip even more special.
At the end of your tour, you will be dropped off at your hotel or accommodation in a comfortable vehicle, ensuring that your experience is as enjoyable as possible. So contact us today to book your West Coast Ibiza Tour!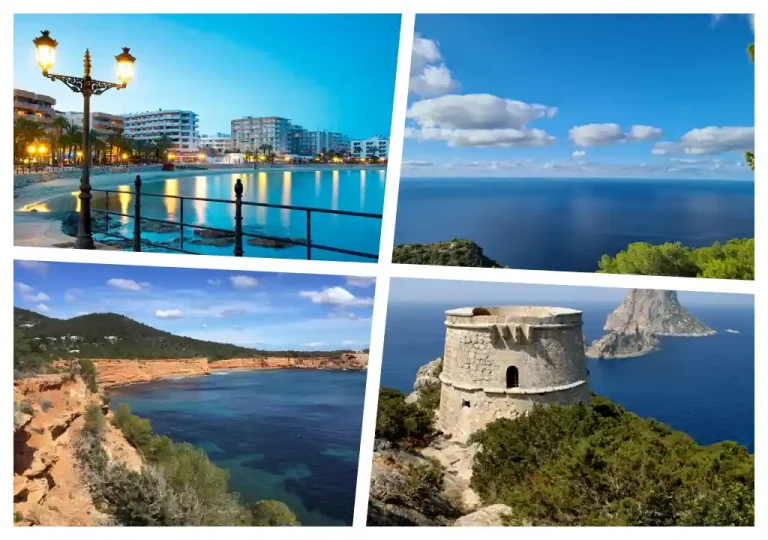 East coast tours in Ibiza
Discover the beauty of Ibiza's East Coast on a full-day excursion that will give you an insight into the island's rich history and culture. Start your trip day at Cala Llonga beach for example, a stunning white-sand paradise just south of Santa Eularia. With crystal clear turquoise waters, this tranquil spot offers stunning views and is perfect for swimming or sunbathing. You can make a stop to take some photos at the Cala Llonga Mirador, or Cala Blanca Tunel if you are in mood of walking. From here, take a scenic drive through the traditional heartland to Santa Eulária des Riu – the third largest city on the island – where you can explore its quaint cobbled streets and historic architecture.
Next on our possible stop is a "shopping mall". Punta Arabi Hippie Market is one of the most popular attractions in Ibiza. Located in Es Canar, this vibrant market has been around since 1973 and offers visitors a unique shopping experience with hundreds of traders selling a variety of items such as jewelry, clothing, souvenirs and local handicrafts. The market is located near some stunning beaches, so it's ideal for those looking to spend a day soaking up the sun and browsing through all that this vibrant hippie market has to offer.
Next on list is Cala Boix, which is a stunningly beautiful beach located on the east side of Ibiza. It is the only beach with black sand in the entire island and it is definitely worth a visit for anyone who book a driven Ibiza tour. Cala Boix has crystal clear waters, perfect for swimming, snorkeling and other water sports. The panoramic view from the cliffs surrounding this beach is also not to be missed.
And if the Punta Arabi wasn't enough for the shopping sesion, we can try the next one. Las Dalias hippie market is a popular destination for the Ibiza tourism. Located in the picturesque village of San Carlos, this vibrant and eclectic market has been running since 1985 and draws visitors from all over the world. With over 300 stalls selling everything from local handicrafts to vintage clothing and jewelry, Las Dalias Hippie Market is an essential stop on any guided tour of Ibiza.
The virgin north part of Ibiza
The north part of Ibiza is a pristine stretch of rugged coastal beauty that has been "untouched by tourism and development". This dramatic, wild landscape is home to some of the most spectacular views in the Mediterranean. From the towering cliffs along the shoreline to the crystal-clear waters in hidden coves, it's easy to understand why this area has been dubbed "the Virgin Coast" by locals. Spots like Cala San Vincente, Cala d'en Serra, Cova des Sants, Portinatx cave, Cala Xarraca, Benirras, San Miguel Cave or Na Xamena are highlights of this tour. Get ready to explore Ibiza's north coast – a paradise of stunning natural beauty!
Whether you're a nature lover or just looking for a unique way to experience Ibiza, our driven tours are sure to be an unforgettable experience!
The beautiful old city of Ibiza is a must-see for travelers wanting to explore the history, culture, and beauty of this famous Spanish island. With its winding cobblestone streets, ancient walled fortifications, and stunning vistas over the Mediterranean Sea, it's easy to see why this charming town has been attracting visitors for centuries.
Fortunately, there are many ways to explore Ibiza old town UNESCO heritage. Our licensed guides provide a personalized old city tour that takes you through the winding streets and alleyways of the old city, providing interesting facts and stories about Ibiza's past. 
The Ibiza old town tour is the perfect way to get a glimpse into the real Ibiza, and will leave you with plenty of memories to cherish.
A professional licensed guide can be a great companion
This captivating full-day Ibiza tour is perfect for anyone looking for an authentic experience in the gorgeous Balearic Islands. You will be guided by a knowledgeable local tour guide, who can inform you about the unique history and culture of this beautiful island as you visit all its stunning sites, and make the best of your day trips in Ibiza.
We collaborate with best local guides, wich can attend you in many languages: English, German, Italian, French. The Ibiza tours we offer can be either driver-guided or with an official tour guide.
So if you're looking for an unforgettable experience – book one of our guided tours today!
Why to book a driven tour in Ibiza
Our experienced driver-guides teamed with their wealth of knowledge and expertise, will show you some of the most beautiful, surprising and hidden corners of the magical island. During a 4 hour tour, you can discover such marvels as wild beaches with crystal clear waters and taste unique traditional tapas. You can also explore the exotic Las Dalias Hippie Market as well as visit famous Es Vedrás for its positive vibes and spectacular views or explore the family-owned business area in santa Gertudis. To top it all off, witness one of the best sunsets in the world from San Antonio's beach or explore Ses Salines Natural Park – which has been ranked amongst the Top 10 best beaches in the world!
Experience a unique car tour of Ibiza, the White Island!
Sunset tours in Ibiza
A Ibiza sunset tour is an excellent opportunity to take in the stunning views it has to offer. Whether you're looking for a romantic date night or just want to soak up the breathtaking views, a sunset tour in Ibiza is sure to be an unforgettable experience.
A professional driver will pick you up at your hotel or accommodation and take you to the desired sunset spot, such as Es Vedra famous sunset, San Antonio or Benirras. Along the way, they will provide interesting facts and stories about Ibiza's culture and history. Once you've arrived at your destination, you can sit back and enjoy the sunset while taking in some of the most beautiful views in Europe.
The experienced driver will then take you back to your hotel or accommodation, making sure that your experience is as enjoyable as possible.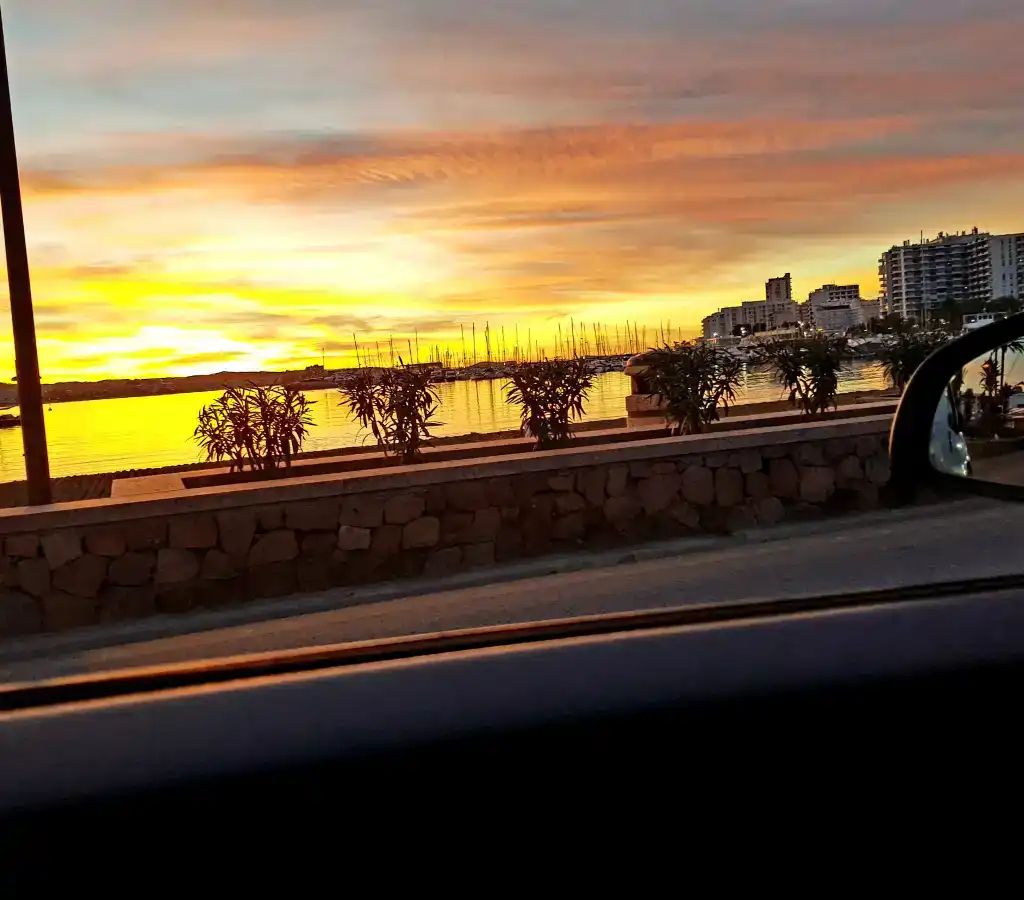 Ibiza is known to be one of the best holiday destinations in the world. With its stunning beaches, vibrant nightlife and rich cultural heritage, it's no wonder why many people flock to the island every year. One of the best ways to explore all that Ibiza has to offer is by taking a car tour around the island.
Driving around Ibiza offers a unique perspective of the island. You can explore the winding roads, admire the stunning views and experience the local culture in a way that you wouldn't be able to do on foot. With our experienced driver-guides, you can discover some of the most amazing beaches in Ibiza, such as Cala Conta, Es Vedrà, Benirras and many others. You will also have the opportunity to explore the Hippie Market of Las Dalias, the stunning Santa Eulalia, or San Antonio and its famous sunset.
Our experienced drivers will make sure your tour is as enjoyable and comfortable as possible, so all you have to do is sit back and relax as you take in all that Ibiza has to offer.
So, if you're looking for the unique way to explore Ibiza and make some amazing memories, why not book one of our Driven Tours? Whether it's a sunset tour, a city tour or an excursion for your family, we promise that you'll have an unforgettable experience!